I recently fitted cruise control to my Dino - not a throttle lock thingy but one that actually works properly. There are (or were) 2 types of CC kits suitable for motorcycle - vacuum operated and electronic. The vacuum type is no longer readily available but worked well in most application.
MCruise in Australia started supplying vacuum CC kits some years ago for a range of bikes and subsequently changed to electronic units. The Audiovox CCS-100 was a universal vacuum kit suitable for most bikes. I have this on 3 of my bikes and have previously fitted it it to a handful of other bikes successfully. These days the Rostra electronic unit (which I have on my 1400GTR and have fitted to a Kaw VN1600) is what's available and works well on bikes. (also available on Amazon)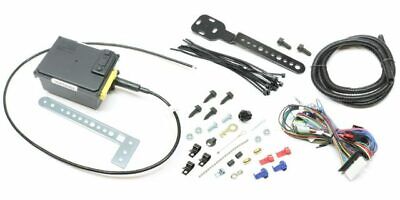 Blind Spot & Lane Change Kits. Blind Spot Sensors. Car Safety & Security. Double DIN Stereos. Flush Mount Monitors. Door Lock Kits. Electronic LoggingDevices(ELD). Fixed Mount CB Radios.
It needs one of these touch pads which, bizarrely, do not come in the kit and are way over priced when purchased as a separate item.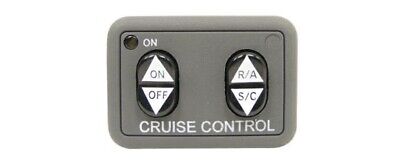 Blind Spot & Lane Change Kits. Car Safety & Security. Blind Spot Sensors. Flush Mount Monitors. Open circuit switch. Car Security. Door Lock Kits. Cell Phone Accessories.
or this comes with touch pad.
Looking for a universal cruise control kit to install in your vehicle? The Cruise Control Store carries this Rostra universal complete cruise control kit.
www.thecruisecontrolstore.com
I actually fitted a used Audiovox unit to my Dino. Fitting either vacuum or electronic is similar but fiddly and time consuming - I have plenty of the latter these days.
The most critical part of the process is getting the throttle connection right, both for safety and performance.
Here's a pic of the first attempt on the Dino to give you the idea. (I'll put a pic of the modified connection when I get the seat off next.)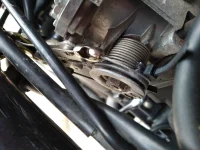 Here's a pic of how the CC cable is now. In the above pic you'll see a black cable tie attached to a lug and the CC cable wraps further round out of sight, I had attached the loop on the CC cable end to the lug for the idle speed adjuster. I knew that wouldn't be satisfactory so it was repositioned to the lug that tie is on. I had to put a knot in the cable to shorten it a bit. The red tie you see in the pic below is there only to keep the joiner in place. The attaching loop on the CC cable end is prevented from slipping off by a small tie. This pic is taken from below - the one above from above.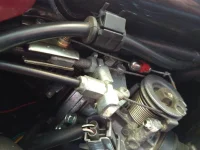 Last edited: